News
current, recent and upcoming:
2018
NICOLAS WIESE: UNRELATED
New LP, limited edition of 200 on clear vinyl
OUT NOW on Karlrecords
RELEASE CONCERT: 13th July, WestGermany Venue Berlin
http://www.facebook.com/events/484380311977785
THE POND
Duo project with singer/vocalist Elisabetta Lanfredini
Live at Spektrum Berlin (Scope Sessions) 20th April
feat. Aude Rrose, anaolgue projections
LOVE'S LABOUR'S LOST
Self-destroying vinyl: performance / listening session
An ongoing project by Christian Schroeder (Vienna)
Records 16 - 19 by Natalia Escobar, Cinthya Garciá Leyva, Nicolas Wiese and Silvester Stoeger
Echo Buecher Berlin, April 12
RUNNING OUT OF WORDS #5
including the piece 'Vocal Scape for Two'
with Elisabetta Lanfredini and Natalia Pschenitschnikova
Ackerstadt Palast, 5th May
KARL MARX 200th BIRTHDAY PROJECT
A tribute / charity compilation by Karlrecords
With contributions by: Alex Babel, Caspar Broetzmann, Jasmine Guffond, Frank Bretschneider,
Kammerflimmer Kollektief, AGF, Reinhold Friedl, Nina Power, Schneider ™, Nicolas Wiese
and more.
CD and digital format released in April/May 2018
SOLIDARITY IS OUR WEAPON - BENEFIT COMPILATION
for the ANARCHIST BLACK CROSS HELSINKI
incl. Ditterich von Euler-Donnersperg, Dave Phillips, GX Jupitter-Larsen, GRMMSK,
Bourbonese Qualk, Das Unpreetzise Klanglabor, Nicolas Wiese and many more.
Released on cassette tape and digital format, implemented by GRMMSK aka Totstellen.
BANDCAMP LINK
BLURRED EDGES FESTIVAL 2018
Improvisation with Christoph Funabashi (prepared acoustic guitar)
and Torsten Papenheim (prepared acoustic guitar)
Linker Laden, Hamburg, 1st June
THREEFOLD
Collaborative work in progress with visual artist Annette Stuesser-Simpson
and vocalist Elisabetta Lanfredini
First work-in-progress show: top Schillerpalais Berlin
18th October
2017
Night of Classical Music at the Conservatorium Maastricht
Piece by Aziza Sadikova for piano and typewriter, video by NW
piano: María Domínguez & Marina Sierra
Maastricht, 28th January
additional performance in Groningen, 17th March
and @ Intro In Situ, Maastricht, 23rd May
KETTENREAKTION S11 @ Kuenstlerhaus S11 Solothurn
preparing 'VERSION 3 (PSEUDO_CODE)' for the group exhibition
March/April - Schmiedengasse 11, Solothurn/Switzerland
LIMITED ACCESS 7 Festival in Tehran
April 7–14, different venues in Tehran
screening of 'VERSION 2 (PSEUDO_CODE)'
http://limitedaccessfestival.com/7/
Improvised concert with Ensemble Xenon
Atelier D. Baltrock, Ritterstraße 4-5 Berlin, 7th April
'REISE ZUM URSPRUNG – Vom Drehen, Rollen, Sinken und Schlafen'
multi media performance project, in public space
concept: Oleg Kaufmann / TAMTAMproduktion
Berntor Parking, Solothurn/Switzerland, 22–29th April
http://www.tamtam-produktion.ch/PROJECT_URSPRUNG.html
'Sichtungen'
concert project by Sebastian Elikowski-Winkler & Ferdinand Breil
projections by NW
Elisabethkirche Berlin, 25th May
BLURRED EDGES FESTIVAL / MS Stubnitz
'Panaudastic Phasing' Site-specific concert environment
with John Hughes, Katt Hernandez, Dirk Dhonau, Chad Popple, Uygur Vural
http://www.vamh.de/index.php?what=blurred_edges&year=2017&gig=3330
Hamburg, 15th June
Duo liveset with ERIC WONG
electric guitar / electronics and feeback
https://www.facebook.com/events/149870975576334
WestGermany, Berlin 20th July
TWO SHOWS IN HANNOVER
Laia Genc / Piano
Başak Yavuz / Vocals, Kalimba
Hesen Kanjo / Kanun
Bassem Hawar / Djozé (Iraqi String Instrument)
Bodek Jahnke / Drums, Percussion, Tabla
Korhan Erel / Computer, Electronics
Nicolas Wiese / Video Artist
Pavillon Hannover
8th Sept - Eroeffnung der deutsch-tuerkischen Kulturtage
Theater Fensterzurstadt
26th Oct - Jazzwoche Hannover
Filme Ohne Grenzen / Films Without Borders Festival Bad Saarow
invited us to contribute a word·e·scape workshop with teenagers
http://filmohnegrenzen.de/workshops
Festival: 15-17th September
Internationales Klangkunstfest Berlin curated by Thomas Gerwin
including my video work 'International Scribble Kids'
(audiovisual remix of workshop productions by teenage refugees) plus InterOutput blog
Festival program: http://inter-output.blogspot.de/p/programm-2017.html
Festival: 15-17th September
Audiovisual liveset with Heidrun Schramm
SCOPE series @ Spektrum
curated by AudeRrose / Berlin 21th October
'Additives'
(concert project by Ferdinand Breil)
NW collaboration with vocalists Natalia Pschenitschnikova and Elisabetta Lanfredini
Ackerstadt Palast, Berlin 29th October
Duo performance with Johnny Chang at Galerie Hunchentoot
Specific multi-source piece inside / in between a space-filling installation by Inken Reinert
http://www.galerie-hunchentoot.de Berlin 1st December
Installation project with Selena Junackov
To be shown in Belgrade, date TBA
TI*TO remix
contribution for remix compilation by TI*TO (Trans Industrial Toy Orchestra)
QUARTET OF BAMBI by Nina Staehli
Sound material by NW - editing and arrangement by Doris Schmid (cut up with Gustav Holst)
http://www.ninastaehli.ch
Will be shown in August 2017 at
Biennale di GENOVA
KETTENREAKTION2016 PUBLIKATION
catalogue and DVD including my work 'VERSION 2 (PSEUDO_CODE)'
available now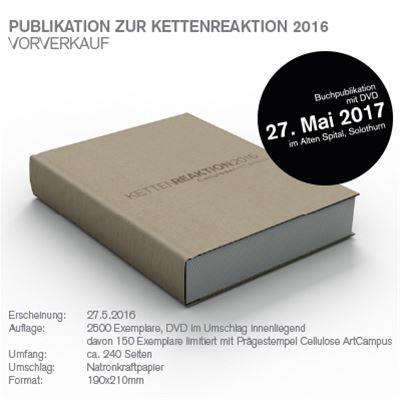 °°°
2016
artist residency
at KETTENREAKTION 2016 / ZELLULOSE ArtCampus,
Attisholz/Switzerland
Aug/Sept
Final exhibition and symposium
28–30 October
http://www.kettenreaktion.jetzt
audio contribution to Max Kuiper's 'Nuits Et Noirs' online poetry magazine –
audio section also featuring Jaap Blonk, Cindytalk, Thorsten Soltau, John Hudak....
video installation
and new edition of the Inter/Output artist blog
for this year's Klangkunstfest curated by Thomas Gerwin
6–8 Oct, Berlin
http://inter-art-project.de/klangkunstfest2016.html
LIVE
DEATH LAB series
(art/discourse/performance series in various non-venues)
commission for a new electroacoustic solo piece
3rd Nov, Berlin
Ehemaliges Verwalterhaus des Alten Friedhofs St. Marien – St. Nikolai,
Prenzlauer Berg 1/Ecke Mollstraße, 10405 Berlin - Prenzlauer Berg
http://deathlab.de
UP·WORDED
Rap/Chamber Music Soundclash - Version 2
with Sookee, Infinite Livez, Shasta Ellenbogen, Rui Faustino, Miako Klein,
Laura Mello and Ferdinand Breil
Ackerstadtpalast Berlin, 26/27 Nov
ENSEMBLE XENON - audiovisual collaboration:
Live analogue projections as instant-scores for the musicians
EXPLORATORIUM Berlin, 16th July 2016
http://www.facebook.com/events/1776233775945250
SCOPE at SPEKTRUM
Audiovisual solo live set, and duet with Bilwa
13th May 2016, Berlin
TRANFORAMTION V:
TAKEN FROM THE STAGE / VON DER BUEHNE GEHOLT
Solo exhibition
at Temporäre Galerie / Campus Rütli, Berlin-Neukoelln
opening 27th Nov - up until 18th Dec. 2015
curated by Silvia Ploner.
15-18th Dec: including presentation of the workshop project TAGSCAPE 2 with Heidrun Schramm
tagscape.wordpress.com
BLIND:OUT:DATED - new collaboration with cellist Gary Rouzer
premier performance: 12th Dec. 2015
SONIC CIRCUITS at the Pyramid Art Center / Washington DC
WORD UP?! an experimental CHAMBER MUSIC / RAP sound clash
devised and produced by Ferdinand Breil and Nicolas Wiese.
also starring: Sookee, Infinite Livez, Laura Mello, Shasta Ellenbogen, Miako Klein, Rui Faustino.
Shows at Ackerstadt Palast Berlin, 3rd and 4th October 2015
HAMBURG IN OCTOBER:
23rd - Radio Gagarin / FSK - live broadcast with NW as studio guest
presenting a previously unpublished 'dub' version of COLD CRUSH
broadcast hosted by Jetzmann and Asmus Tietchens.
24th - trio concert at the Gaengeviertel:
JOHN HUGHES - double bass
CHRISTOPH FUNABASHI - guitar
NICOLAS WIESE - feedback and samples
TRIO CONCERT
with Korhan Erel and Elisabetta Lanfredini
at Greenhouse, Berlin Nov. 21
Quiet Cue at KINDL
cooperation with KINDL – Zentrum für zeitgenössische Kunst

Three evenings in September curated by M. Renkel & N. Wiese
in the extraordinary boiler hall of the former brewery.
September 5/12/19
full program see quietcue.com
COLD CRUSH
text/speech based radio piece for Deutschlandradio Kultur.
Broadcast premiere: 25th May '015.
2nd broadcast: 5th June.
NEU KONSERVATIW
vinyl compilation / Walter Ulbricht Schallfolien 2015
with: Column One, Evapori, Hyph / Nicolas Wiese, Pierce Warnecke, Asmus Tietchens,
Ditterich von Euler-Donnersperg, Margitt Holzt, Werkbund.
Ghost Image
audiovisual collaboration piece by Jaroslaw Ilski, Stefan Rosinski and Nicolas Wiese
will be performed at Sisyphos Berlin 24th April
https://www.facebook.com/events/369583556575746/
and at:
Sonic.Screening
an audivisual experiment.
A cooperation between Quiet Cue and UdK Berlin, Early and New Music institutes.
Visual artists curated by Nicolas Wiese.
First event at Quiet Cue, 7th/8th Feb 2015
Final concert: Urban Spree Berlin, July 18th.
Quartet concert:
Elisabetta Lanfredini (voice), Nicolas Wiese (electronics), Utku Tavil (drums),
Korhan Erel (computer, controllers) - XBeliebig Berlin - 26th May
Trio concert at Quiet Cue #153
Christiane Hommelsheim - voice
Stella Veloce - cello
Nicolas Wiese - manipulated cello/voice recordings
30th May
*
Solo concert: Versus/Nonversion (alternation1)
at the 'series', Studio 8, Wedding 15th March 2015
5 years of Quiet Cue! 13/14th Dec 2014
AudeRrose with Nicolas Wiese
overhead multi projection
with various materials and hand drawings
New edition of INTEROUTPUT –
my artist blog for Thomas Gerwin's Klangkunstfest Berlin
Sept/Oct 2014
»The AudioVisual an the question why?«
article published in the online magazine of the Canadian Electroacoustic Community.
READ IT HERE
Duo with Johnny Chang
3rd December, Stark Bewoelkt / B-Movie, Hamburg
Trio with Axel Haller and Gunnar Lettow
7th December, Miss Hecker, Berlin
Klangwelten Ad Hoc Ensemble curated by T. Gerwin
19th December, Luisenbad Berlin
Scope Session #38
audiovisual lecture performance / discussion
8th January 2015, Panke Berlin
Collaboration CD release »Introjection« w/ Mise_En_Scene
on the Montréal based label Los Discos Enfantasmes
OUT NOW - LISTEN TO PREVIEW
LP release »Living Theory Without Anecdotes«
on the Berlin based label Corvo Records
OUT NOW
Concert with Korhan Erel (computer&feedback duo) at Altes Finanzamt, Berlin, May 28th
Concert in the 'Klangwelten ad hoc' series curated by Thomas Gerwin
Bibliothek am Luisenbad, Berlin May 30th
Concert at Liebig12, Berlin June 6th 2014:
Olaf Hochherz & Seiji Morimoto Duo (electronics/feedback)
Seiji Morimoto & Nicolas Wiese Duo (electronics/feedback)
Olaf Hochherz & Nicolas Wiese Duo (electronics/feedback)
Live sound piece for an installation by Cauleen Smith, referring to Sun Ra -
D 21 Leipzig July 12th
Concert in the 'Multiphonics' series curated by John Hughes
electroacoustic ensemble : Massimo Falascone, Vlatko Kucan, Nicolas Wiese, Björn Lücker,
Heiner Metzger, Chad Popple, John Hughes
Kulturdeich Veddel, Hamburg Aug 1st
Johnny Chang - viola / NW - manipulated viola samples, feedback
Ausland, Berlin, March 26th
Introjection, arrival on christmas ...  
http://www.discogs.com/Nicolas-Wiese-Mise_En_Scene-Introjection/release/5177514
»Living Theory Without Anecdotes«
Pre-release concerts / Corvo Records label nights, alongside Dieb13 and Alessandra Eramo
in Berlin: 24th May, Galerie Haus am Luetzowplatz
in Vienna: 28th May, Echoraum
New music group project: P600
with Bilwa (metal bowls and electronics), Klaus Janek (double bass and electr.),
Luca Marini (percussion and electr.), and Nicolas Wiese (mixers, feedback, live sound manipulation)
First public appearance: 06th June, Quiet Cue
Klangkunstprojekte/Improv2013 Festival, Leipzig, 27th and 28th July
http://www.klangkunstprojekte.org/kitchen2013.html
Exhibition at NAISA / Toronto: Satoshi Morita – »Sonic suit« object
with 5-channel composition by Heidrun Schramm & Nicolas Wiese
http://www.naisa.ca/soundtravels/installations.html#I02
Audiovisual collaborations with composer Aziza Sadikova
Video / chamber music piece based on Uzbek fairytale. Premiere at Kasseler Musiktage, 1st Nov
Video / piano duet piece based on Franz Kafka, performed at BKA / Unerhoerte Musik, Berlin, Oct 8th 2013
Commission for an artistic contribution in the form of a blog, for the
International Klangkunstfest 2013
in Berlin, curated by Thomas Gerwin. Oct 24th – Nov 10th 2013
http://inter-output.blogspot.com
P600 - Bilwa / K. Janek / L. Marini / N. Wiese – work residency 21-24th Nov and concert 24th Nov 2013 – Liebig 12, Berlin
»Wasteland2013« installation in public space, Itzehoe. Commissioned by Kuenstlerbund Steinburg
for Kunstfestival Itzehoe 17th Nov– 8th Dec 2013
In progress: text/speech based radio piece for Deutschlandradio Kultur.
Broadcast in 2014. Details will follow.
Israel Martínez & Various Artists »In Memoriam«
With the participation of: Francisco López, BJ Nilsen, Murcof, Janek Schaefer, Rogelio Sosa,
Manrico Montero, Iris Garrelfs, Philippe Petit, Lumen lab, Alvaro Ruiz, Nicolas Wiese,
Simon Whetham and Huixtralizer.
Free download of sound work and booklet: http://www.abolipop.com/suplex/suplex21.zip
* * *
»Uebungen In Einer Pfuetze«
Exhibition by
Michael Barthel / Heidrun Schramm / Nicolas Wiese
at Kunstraum Barthel
Opening 15th March 2013
Up until 7th April.
Satoshi Morita – »Sonic suit« object
with 5-channel composition by Heidrun Schramm & Nicolas Wiese
presented at NBH Kunstraum Berlin, January 24th 2013
Spatial sound performance by Heidrun Schramm & Nicolas Wiese
Quiet Cue, December 8th
Trio/quartet concert
with John Hughes, Lars Scherzberg and Bjoern Luecker
Gaengeviertel, Hamburg December 9th
*
Satoshi Morita – »Sonic suit« object
with 5-channel composition by Heidrun Schramm & Nicolas Wiese
will be presented at Ars Electronica 2012 »The Big Picture«
Opening: Do/Thu 30. 8. 15:30
Do/Thu 30. 8. – Mo/Mon 3. 9. 10:00 – 19:00
Kunstuniversität Linz
Festival Resonanzen, Leipzig
Friday, 21th Sept 2012
20.00 Werkstatt • Schaubühne Lindenfels
Saturday, 22nd Sept 2012
22.00 Werkstatt • Schaubühne Lindenfels
http://resonanzen-leipzig.de/
New short acousmatic piece for manipulated voices (UA)
Duo set with Thomas Gerwin (voice sample manipulation duo)
Internationales Klagkunst-Fest 2012, Berlin
Mitte Museum, October 18th
cd release: jealousy party + nicolas wiese
»relative memory« on absinth records
april 2012 > http://absinthrecords.com
pre-release concert #1: jealousy party + nicolas wiese
salon bruit at klick club, berlin
march 7th > http://salonbruit.org
pre-release concert #2: meta_dj set
wj meatball / mat pogo /nwiese
naherholung sternchen, berlin
march 11th >
http://www.naherholung-sternchen.de
heidrun schramm & nicolas wiese
concert at 'emihal' series
galerie haus am luetzowplatz, berlin
march 23 > http://www.corvorecords.de
audiovisual solo set by n. wiese
including »el jardin revisitado (version 2012)«
based on a collaborative piece with t.r. poller
/ »mill« by yoav pasovsky & n. wiese
cello: rosi rehformen
neue musik at st. ruprecht, vienna
may 6th > http://www.neue-musik.at/
audiovisual solo concert by n. wiese
'sounds go cinema' series
cinema quadrat, mannheim
may 27th > http://www.cinemaquadrat.de
»floating rooms at quiet cue«
collaborative exhibition with
kristine marx (nyc) and
maria & natalia petschatnikov (berlin/ru)
at quiet cue, berlin, 8th–10th june
http://quietcue.blogspot.com/
»kafkaskop« - music theatre based on kafka
compositions by laura mello, arne sanders, sarah nemtsov,
tom rojo poller, sebastian elikowski-winkler.
director: lotte greschik. dramaturgy: mauricio veloso.
scenography /video: nicolas wiese and stefan rosinski.
werner otto saal / konzerthaus berlin
june 22/23/24 > http://klangnetz.org/
hughes/scherzberg/wiese trio and thomas rehnert
at r.e.m series, bremen
june 29th > http://www.pgnm.de/de/rem/rem
heidrun schramm & nicolas wiese
audiovisual duo set at alchemia, kraków
http://alchemia.com.pl
july 10th
audiovisual performance and lecture
at 2nd Annual Tehran Digital Art Exhibition
Mohsen Gallery, Tehran
June 17th + 18th
http://www.tadaex.com
recent:
strings and electronics #1 at quiet cue, berlin
febr 23th > http://quietcue.blogspot.com
"Threshold" by Selena Junackov and Ana Stefanovic / Sound: Nicolas Wiese.
*
*
*
concert with different combinations
JAMIE DROUIN (Victoria/CAN)
OLAF HOCHHERZ (Berlin/DE)
SEIJI MORIMOTO (Berlin/JP)
NICOLAS WIESE (Berlin/DE)
November 8th, Altes Finanzamt Berlin
video music screening
YOAV PASOVSKY + NICOLAS WIESE »MILL« (Edit2)
at FESTIVAL PUNTO DE ECUENTRO,
Asociación de Música Electroacústica de España (A.M.E.E.)
November 16th, Valencia
video concert piece
YOAV PASOVSKY + NICOLAS WIESE »MILL« (premiere of live version)
Cello: LOUISE McMONAGLE of ENSEMBLE AMORPHA
December 1st, BRITISH FILM INSTITUTE London
duo concert
HEIDRUN SCHRAMM + NICOLAS WIESE
December 13th, VELAK Gala, Vienna
duo concert
HEIDRUN SCHRAMM + NICOLAS WIESE
December 28th, Hoerbar Ausklangfestival, Hamburg
free download compilation out now on CRÓNICA:
SHINKEI + MISE_EN_SCENE »LEFTOVERS REWORKED«
also featuring Terje Paulsen, Zimoun, Steinbruechel,
Seventeen Migs of Spring, Pierre Gerard, Ben Owen,
and more
upcoming CD release on ABSINTH RECORDS:
JEALOUSY PARTY + NICOLAS WIESE »RELATIVE MEMORY«
will be released in winter 2011/2012
listen to online previews here
new CD compilation on Edition DEGEM: »REPLACE«
curated by Marc Behrens; also featuring Kirsten Reese,
Sam Auinger, Frank Niehusmann and more
http://www.editiondegem.de
collaborative video installation:
»THRESHOLD« by SELENA JUNACKOV & ANA STEFANOVíC
sound by NICOLAS WIESE
premiered  September 21st, INEX FILM Festival, Belgrade
next screening: November 4th, Cultural Center BIGZ, Senjak/Belgrade
trio concert
MASSIMO FALASCONE (Milano)  - Sax/Electronics
JOHN HUGHES (Hamburg/USA) - Double Bass
NICOLAS WIESE (Berlin) - Electronics
October 1st, QUIET CUE Berlin
trio concert
JOHN HUGHES - Double Bass
LARS SCHERZBERG - Saxophones
NICOLAS WIESE - Electronics
October 6th, FRAPPANT Hamburg
quartet concert
KLS + NICOLAS WIESE
(ROBERT KLAMMER / GUNNAR LETTOW / LARS SCHERZBERG)
October 7th, Freitagsmusik Hamburg
quintet concert
RENATO CIUNFRINI (Rome) - Reeds
GURO SKUMSNES MOE (Oslo) - Double Bass
HAVARD SKASET (Oslo) - Electric Guitar
MAT POGO (Berlin/IT) - Actual Voice
NICOLAS WIESE (Berlin) - Virtual Voices
October 11th, Wendel Berlin
*
*
*
»MILL« - Audiovisuelle Installation, in Zusammenarbeit mit Yoav Pasovsky
im Rahmen des Medienkust-Festivals ArtMUSE,
Textilmuseum Bocholt / Alte Spinnerei, 16/17. Juli 2011
.
STILL AVAILABLE:
[-Hyph-] "Ultrapeer" LP
on Walter Ulbricht Schallfolien
limited edition of 300
Hughes / Scherzberg / Wiese
"Discard Hidden Layers" CD
published by SCHRAUM, January 2009
for details: please click on the image