LP on Corvo Records, Berlin 2013
The album LIVING THEORY WITHOUT ANECDOTES conflates Nicolas Wiese's acousmatic compositions from the years 2009-2011. There is a common thread: all four compositions are constructed out of samples from acoustic instrument and object recordings, and mostly   have rather floating structures with slow crescendos and little disruptions.
A significant element in Wiese's soundworks is the spatial layering – there is an architecture of foregrounds, backgrounds and different midgrounds that integrate an analoge room feel, subdivide the dynamics in a manner unusual for a 'non-played' music and therefore question the obvious digitality in most of today's electronic productions.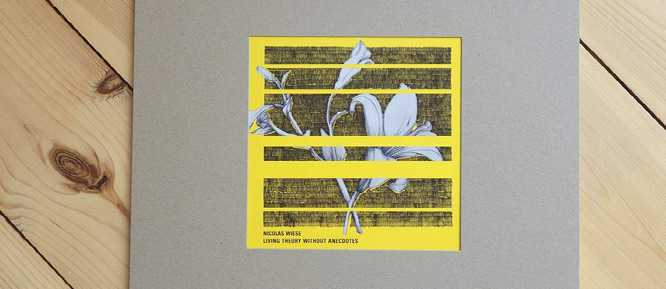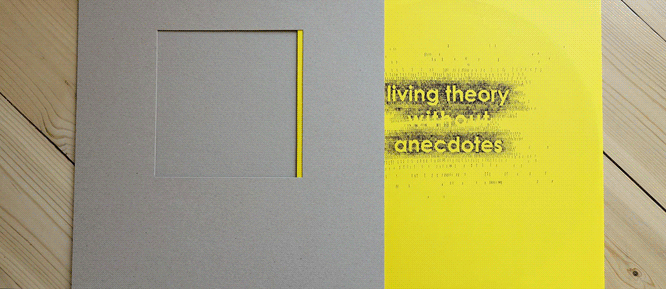 The longest piece, filling the entire B side El Jardín Revisitado, is based on a 2 hours long multiscreen video / ensemble piece conceived together with composer Tom Rojo Poller. Sound manipulations from the original instruments have been taken into further processing by Wiese afterwards, serving as a pool for a series of audiovisual solo performances. The album version contains compositional 'cells' which vaguely resemble the original ensemble piece, altogether employing them in a very different meta-structure.
Der Elefant im Porzellankäfig (the elefant in a cage of porcelain) has been developed as a re-assembly of a few short samples delivered by German sound collagist Thorsten Soltau. Most of Soltau's samples have been played back and re-recorded through tiny speakers, partially coverd by plastic and other sounding / sound-blocking matter. The result is a merging of borrowed sounds and their haptic transformation – layered, cut and overlapped into percussive and harmonic properties and relations that have not been there before.
Subfertile is an elegy; maybe the most elegic piece Wiese has ever written. It is comprised almost entirely of string samples, plus a few textural percussion layers recycled from Wieses 'Breathing Gadgets' (2004). The origin of the string instruments is impossible to track back since most sound bits have been drawn from recorded live performances, in which Wiese has used all kinds of string instrument sources.
Due To Idle is based on samples taken from the same recording sessions that have been set up for 'El Jardín'. Additionally, Wiese performed some zither scrubbings and cello pluckings himself. The idea of the piece is a concurrence of 'hectic' and 'calm' elements, resulting in an ambiguous tempo.
»…a musique concrète stroboscope flickering in a basement«
— A Closer Listen (UK)
»It's not unlike being invited to make your camp for two weeks inside a Mark Rothko painting, with no outside communication allowed.«
— The Sound Projector (UK)
»Wiese is a master of spatial layering: it seems as if we were listening to an architect.«
— improv.hu
»Was alle vier Stücke auszeichnet, ist eine ungeheure Räumlichkeit.
Die Bestandteile der Kompositionen treten so deutlich hervor, dass man sie anfassen möchte.«
— NONPOP (DE)
»…avec une transparence qui ne doit surtout pas nous fair oublier que, seul ou presque, Nicolas Wiese a prouvé qu'il était l'homme d'une face et d'une seule, la première, la stupéfiante.«
— le son du grisli (FR)
*
*
Photos: Wendelin Buechler / Corvo