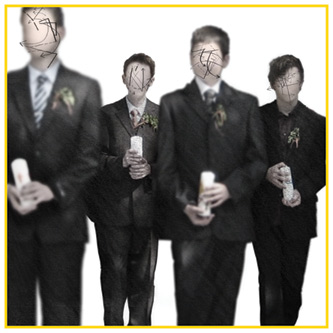 Nicolas Wiese & Mise_En_Scene 'INTROJECTION'
CD (ltd. ed. of 200) in die-cut cardboard sleeve
out on Los Discos Enfantasmes, winter 2013/2014
The collaboration between Israeli electronic musician Shay Nassi and German media artist Nicolas Wiese began in 2008, with the exchange of some raw recordings of feedbacks and everyday objects, via internet.
During the following years, several compositional sketches have been sent back and forth and so have been refined step by step, in multiple sonic layering and construction processes.
The result is a 45-minutes-long collection of dense, dynamic, ambiguos and twisted atmospheric pieces which can be described as 'post-digital' – in a sense of digital music production that heavily relies on the sound patina of the analogue space, and on the vivid haptic interference of 'human touch'.
The title 'Introjection' refers to a psychoananlytical term, which here can be understood in a sense of mass psychology. Undigested and unquestioned fragments of ideology, of social behaviour, of surrounding opinion and values are being swallowed and internalized by the individual in an act of both self-defense and self-mutilation. It's active and passive at the same time, it's invasive and passive-aggressive. It's the foundation of social identity construction.
»…Introjection sounds like that chaotic moment of connection between the digital and physical, where objects start to flicker and transform via an unpredictable sequence of binary rendering…«
ATTN:Magazine (UK)