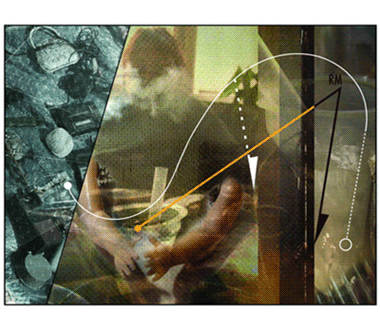 Jealousy Party + Nicolas Wiese RELATIVE MEMORY
CD released in 2012 by Absinth Records
Ed. of 500 comes in a special 7″ cardboard sleeve
Jealousy Party:
Roberta WJ Meatball (JP set), Mat Pogo (Voices), Edoardo Ricci (Saxophones)
plus
Nicolas Wiese – Computer and sampler;
percussion, objects, strings and stuff;
omni_deconstruction, spatial re-recordings,
final composition and mix.
Jealousy Party is one of the most significant creative music units in Italy, and the major act in the Burp Enterprise collective. The Florence-based ensemble, even though its members are spread all around the planet, is active since 1995.
The JP core trio consists of Mat Pogo (performing actual and recorded voices), WJ Meatball (live mixing, cutting and recycling pre-recorded material of the whole group, a system she calls 'JP Set') and Edoardo Ricci on reed instruments. The merging of a vivid live performance with self-recycling through the spontaneous use of playback devices has become one of Jealousy Party's most crucial trademarks.
For this album, Berlin based artist/composer Nicolas Wiese has joined the trio in a studio recording session, followed by a casual stereo-recorded meeting in Pogo's living room.
Wiese's approach to electroacoustic performing adds a different take on self-recycling here: in the (mostly improvised) playing, he contributes samples of Pogo vocals and breath as well as pre-manipulated Ricci solo fragments – so his part clearly supports the techniques, timbres and philosophy of the group. His main part however, would begin after the recording sessions. In his studio, he takes apart and re-configurates mostly everything played, but with a clear focus on maintaining the JP characteristics of expression. He adds layer on layer of sound textures and spatial expansions; at some parts he would leave the improvised combination of vocals and saxophone exactly the way it happened, while completely reconstructing the electroacoustic accompaniment out of key moments in Meatball's and his own sample playing. Some other parts you hear in the final result, are rather a clash of several studio takes that were never intended to be brought together in the first place. In the title piece 'Relative Memory', the spatial distance of the living room recording is utilized as a communicative embedding for new vocal takes, in which Pogo recites his own lyrics – out of memory; and Wiese's mix and arrangement completes the focussed relativity of self-quotation in a musical frame that is never 100% improvised and never 100% fixed.