VOCALSCAPE FOR TWO
Voices: Elisabetta Lanfredini, Natalia Pschenitschnikova
Voice manipulation and composition: Nicolas Wiese
Live at Ackerstadt Palast Berlin, Oct. 2017
JOHNNY CHANG & NICOLAS WIESE DUO
Chang: Viola, field recordings
Wiese: Electroacoustic viola manipulation, asymmetrical speaker array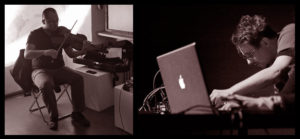 BLIND:OUT:DATED
Gary Rouzer: Cello and preparations
Nicolas Wiese: Electroacoustic cello manipulation, feedback
The stage concept: Rouzer performs a concert, playing along with a prepared stereo arrangement by Wiese which he has not heard before. > MORE INFO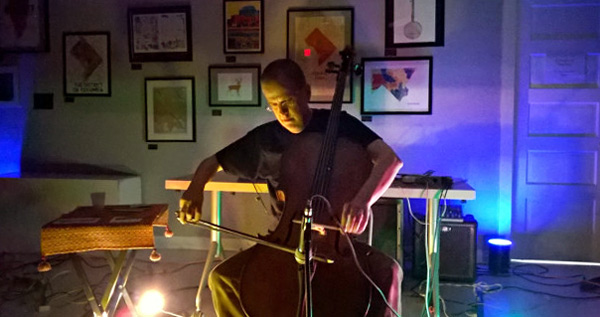 Two excerpts from the first piece (23′) mixed in 2018:
KORHAN EREL & NICOLAS WIESE
Electronic duo
Live video from Quiet Cue series, 2014
BILIANA VOUTCHKOVA & NICOLAS WIESE
Voutchkova: Violin
Wiese: Electroacoustic violin manipulation, feedback
Session recording at Quiet Cue, 2016
MAT POGO & NICOLAS WIESE
MP: Voice
NW: Electronics (MP voice manipulation and more), feedback
FLOATING ROOMS AT QUIET CUE
Video: »Floating Room (Quiet Room)« by Kristine Marx
Sound: Improvised duet by Seiji Morimoto and Nicolas Wiese, along with the video.
This was part of an audiovisual project in which Wiese sent photos of the studio/venue
to Marx in NYC who had never visited Quiet Cue then and elaborated the video intuitively.
In the spread-out installation (also featuring twin artists Natalia & Maria Petschatnikov) two versions of the video were shown in conjunction with a multi-channel/multi-source sound installation, for which Wiese processed recording bits from many different Quiet Cue sessions and concerts, from a cast of around 25 artists.
Seiji Morimoto was one of them, and so was invited to join for a 'live interpretation'.
HEIDRUN SCHRAMM & NICOLAS WIESE
besides their site-specific installation concerts (see HERE)
there have been audiovisual concerts and 'frontal' live sets by HS&NW since 2004.

DITTERICH VON EULER-DONNERSPERG & NICOLAS WIESE
a lecture/sound performance recorded live in 2005:
more projects will follow